---
{View Larger} {View the PDF} {More Mini-Maiden Paper Dolls}
---
Today's Printable Paper Doll Inspirations: Turkish and Persian Clothing and This Picture on Pinterest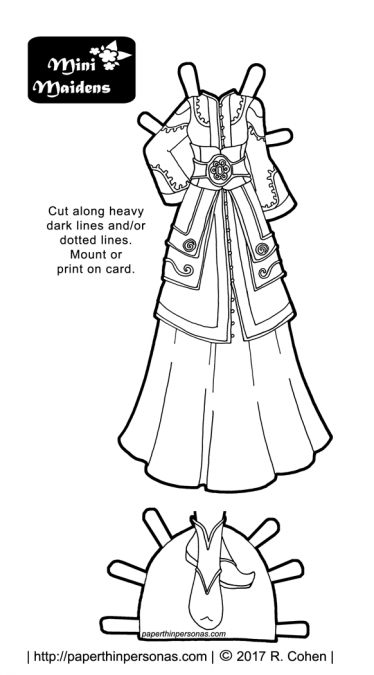 So, I rarely draw things that are as close to the reference image as today's paper doll fantasy outfit. I saw this picture on Pinterest and I really liked it. I later realized that this it is basically Kiera Knightly's costume from Pirates of the Caribbean: At the World's End. I was almost ashamed that I drew it after that, because I really dislike that film.
Still, once it was done and saved and ready to go, I didn't want to just abandon it, because it was based off an awful movie costume. The costume is okay I guess, but the film is just so bad. Anyway, I decided I should just get over it and treat it like any other paper doll creation.
So, a little background- the coat in the picture and in this paper doll is based on a traditional Turkish clothing from the 19th century. Here's an example from The Met, another one from The Met and a Victorian era rendition of the same garment.
There are, of course, a lot of differences between my version of the caftan, the biggest being that it closes all the way up to the neck. This was not how women really wore them back in the 19th century, but that's what fantasy clothing is for, isn't it?
I couldn't see the bottom of the picture, so I decided mine was a gown and the wide leather belt and layers of armor were likely decorative. The paper doll's boots were my attempt to draw upturned toes on shoes such as these ones and were another nod to Turkey.
What do you all think? Good paper doll outfit? Bad Movie? Thoughts? Let me know in a comment. I love to hear from you all.
Meanwhile, if you want to support the blog, then think about becoming a Patron or picking something up from the Etsy store.
Need a Mini-Maiden paper doll to wear today's outfit? Pick a Mini-Maiden Paper Doll Here.