---
{View Larger} {View the PDF} {View Black & White} {View the Black & White PDF}
{More Marisole Monday & Friends Paper Dolls}
---
Today's Printable Paper Doll Inspirations: Huge Skirted Ballgowns and The Colors of the Sunset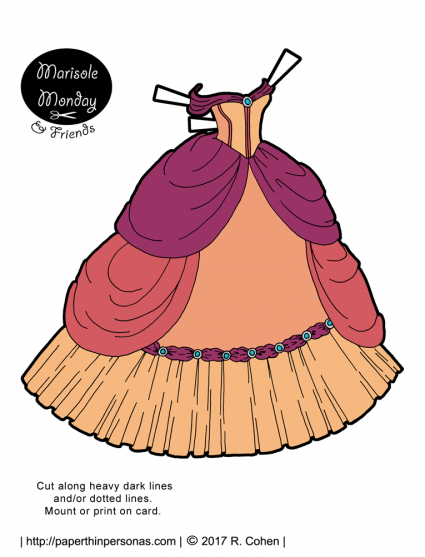 I love big skirted ballgowns. I love crazy over the top big skirted princess paper doll ball gowns.
Obviously, I am expressing this love today.
Another love of mine, from when I was a kid, are off the shoulder dresses. Generally, I blame this on being a child of the 1980s.
This ballgown was actually part of a set of two big skirted fantasy gowns I designed back in 2015. Yes, that's right, 2015. A long long time ago, I confess.
Anyway, I found them again and I hated one of them. This one I thought, "You know, that's not bad."
Now, the color scheme it had back then involved lime green and orange, so that had to go. Once I had it re-colored, I actually thought it was pretty beautiful, so it wasn't a hard decision to repost it.
So, how do people feel about big skirted ball gowns?
And think about becoming a patron if you like the blog. Every little bit helps, plus there's previews and sketchbook content. And, I've got a new facebook page, so like it and such if you want. It's home to archives posts from the depths of the blog.
Need a Marisole Monday & Friends Lady Paper Doll to wear today's outfit? Pick One Out Here.