---
{View Larger} {View the PDF} {View Black & White} {View the Black & White PDF}
{More Sprites Paper Dolls}
---
Today's Printable Paper Doll Inspirations:  Springtime Colors, Striped Pockets, and Bucket Bags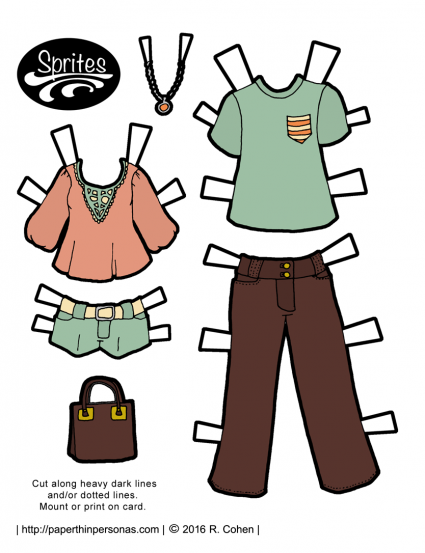 Okay, so this does seem a little bit of a Spring-Like outfit choice considering that it is December 8th, but I created these outfits months and months ago and I really like the color scheme, so we are getting some Spring in December for the Sprites printable paper doll series.
One of the challenges of these modern sets has been to find color schemes that could go masculine or feminine. Pastels can be dangerous, but I think aqua is a color that can go either way.
I also had way more fun designing the purse to go with this set than I should probably admit to people.
If you happen to love the blog, then think about donating by becoming a Patron.
Looking for some Sprite paper dolls to wear these outfits? Pick out Sprite paper dolls here.