I can't speak for others, but for me Dover paper dolls were the best of the best when I was a kid. Sure, Golden Book made some nice paper dolls, but Dover books were what I would order from the local bookstore by bringing in the hand copied ISBN numbers from the back of the books. This was before the internet, so I had to just ask the bookstore in town to custom order them for me, often sight unseen. I still remember my joy at getting a copy of the Victorian Cat Family special order. I was 14, far to old for paper dolls, I thought. So, I carried it home in its bag and didn't open it until I was safely in my room where no one would see me pouring over the book in delight.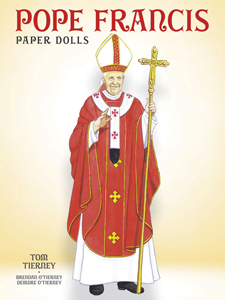 A few weeks ago, I contacted Dover to see if anyone there would be willing to answer some questions about paper doll publishing. Truth be told, I wasn't expecting a response, so imagine my surprise and excitment when Jason Schneider contacted me back. Jason was Dover's Children's Publishing Manager.
Born in 1975 in Valley Stream, NY, Jason attended Hofstra University (1993-1997). A life-long book lover, Jason decided to leverage this interest in publishing. He was the acquisitions manager for Barnes & Noble's Children's Publishing line for several years. Beginning in 2007, he joined Dover and has worked on a rich variety of content, brought interesting licenses to the company's program and directed the hardcover Calla line of books. He also worked on the paper doll collections published by Dover and he was kind enough to answer some questions.
In the time since I wrote Jason and this post getting published, Jason has joined  Skyhorse Publishing as Editorial Director of the new Racehorse Publishing and Clydesdale Books imprints. I wish him the best at his new position.
Big thank you to Jason for his time.
A Q&A with Jason Schneider of Dover Publishing
So, I have to ask, did you play with paper dolls as a kid? And what were your favorites if you did?
No, I don't recall having many paper doll books as a child, outside of a Sesame Street Seasons Paper Dolls book which I wound up republishing with Dover a few years ago.
And, of course, how did you get into children's publishing?
I majored in English Literature and Publishing Studies in college. The process of book creation always interested me and getting into publishing was my goal. Children's Publishing was where I wanted find myself, but my first jobs in the business were as far away from that as possible. I started with educational reference and Math and Science publishers because I needed experience. I would up at Barnes & Noble Publishing in 2000 as an Assistant Editor for their Children's Program and things developed from there.
When did Dover start publishing paper dolls?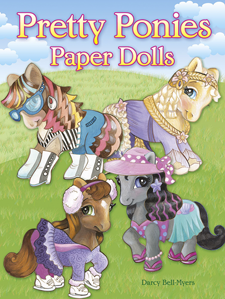 Dover's publishing of paper dolls certainly predates my tenure here. I believe that the decision to publish them grew from the company's continuing interest to preserve and feature content that has since went out of print. The first titles were compilations of Antique Paper Dolls and were published in 1975. Both titles (Antique Paper Dolls 1915-1920 edited by Arnold Arnold and Antique Paper Dolls: The Edwardian Era) have recently gone out of print after 40 years. However, it wasn't until Tom Tierney's Glamorous Movie Stars of the Thirties was published in 1977 that Dover started to view it as a category.
Roughly, how many paper doll titles are published in a year?
There are a lot of variables. The market has changed considerably since we started publishing paper dolls, so there has to be the right niche for a new book. Whether it is a fashion trend or other growing area of interest, something has to strike a chord.
How do you select which paper doll titles to publish? Has the internet changed any of this selection process?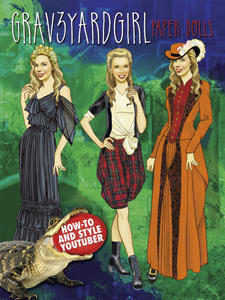 Most of the paper doll books that we publish are generated from in-house ideas that we bring to a talent pool of artists that we use. While we have published some submissions that have been artist generated in the past, the practice is far less common now. For instance, we had the idea to work with Bunny Meyer who has a substantial YouTube following under the pseudonym of Grav3yard Girl and produce a paper doll of her. We worked with Bunny and brought the concept to artist Ted Menten who brought it to life. Eileen Rudisill Miller, Bruce Jones, Tim Foley, Charlotte Whatley and Ted Menten are just a few of the contributing artists that Dover works with.
There are very few paper doll publishers left in the United States, how do you see paper doll publishing shifting in the future?
There's us and Paper Studio Press. I don't think anyone else views it as line. Any other publisher will publish one-offs here and there.
I think the shift has already happened. Dover doesn't publish quite as many titles as we once did, since there is unfortunately a lack of market demand for the type of depth we once would produce. While we are still active in the area, we definitely try to link new product closely with timely events such as Pope Francis Paper Dolls, or the brand new Scream Queens Paper Dolls that links up with the show. We're also producing paper dolls for a younger age group and while we've done Mermaids, Pretty Ponies, and Ballet, we've also produced books recently with licensed properties such as Olivia, Grumpy Cat and Betty Boop.
Dover divides their paper dolls into two categories. Those for children and those for collectors. Can you talk a little about how those audiences differ?
I think that the books are more of a keepsake for the adult market and a consumable for children. This isn't to say that there isn't crossover in interest for some of our books, but we usually have the dolls punch out for the more juvenile titles for ease of use. I don't think kids are going to be as precious with the books. After attending a few paper doll conventions and asking the attendees how they use their books, some have told me they'll buy two copies – one to keep and one to cut.
The subject matter sets the audiences apart. I don't think that the majority of kids are as interested in Avant-Garde Fashions or Steampunk Vixens.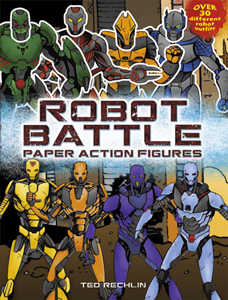 Recently, two books of Paper Action Figures, which were essentially paper dolls for boys, were published. Can you tell me more about what prompted these books? Are more Paper Action Figures planned?
It was an attempt to do something different within the medium. I wanted to update the concept, and not necessarily make paper dolls for boys but simply try a modern approach which was less gender-specific. We did Glow-in-the-Dark Ghouls and Robot Battle. The Glow-in-the-Dark element we used is really cool, but we do not have any plans to do more at this time.
What do you believe makes for a successful paper doll book? How is a traditional paper doll different from, for example, a sticker paper doll?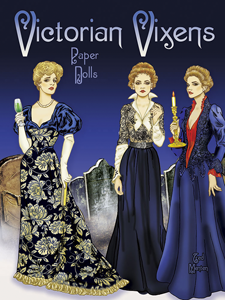 Victorian Vixen Paper Dolls by Ted Menten I feel a sticker paper doll is more of a sticker activity product. It's going to be played with several times until the stickers lose their adhesiveness. I think a paper doll has more of a novelty and collectible aspect. You get more costumes, more dolls. It's just a grander presentation.
I'd be remiss if I didn't say that sales makes for a successful paper doll book. A beautiful book is great, but if no one is buying it, then it isn't a success. Beyond that, with a classic paper doll it has to have great illustration with the dolls' figures rendered meticulously. If it is based on a person, the likeness has to be impeccable. The costumes have to be interesting, which was something Tom Tierney always excelled at and Tim Foley is currently doing a great job with. Personally, I like when we add something novel and interesting to the format, such as with additional elements and backgrounds that Ted Menten provided the Victorian Vixens Paper Dolls with or Rudy Miller's Dream Weddings. It just makes the book feel more complete and adds more to the overall experience, especially for collectors.
Will mainstream publishers be producing paper dolls in 25 years?
It's hard to say what publishers will be producing in 25 years, if they are still producing books as we know them now. No one would have predicted the quick influx of ebook technology which changed the industry and there is always a new advancement which is a step away from revamping our perspective on the way things are done. I don't know when it will happen or how it will alter the business. In the end, if there's an audience that is interested, and mainstream publishers see potential to make money then paper dolls will still be published.
---
Jason mentioned Paper Doll Studio Press and I am pleased to report that I'll have a Q&A with them in a few weeks. So, that should be fun too. Oh, and if you haven't picked up Robot Battle or Glow in the Dark Ghouls for your collections, then I recommend them. I just got my copies and the glow in the dark feature is really cool. 🙂
I just wish there was a child in my life who needed robot paper dolls.
I hope everyone has a wonderful Thanksgiving tomorrow. Friday there will be another paper doll set. 🙂