I got an email a few days ago from a reader who wrote:
I was wondering if you ever do requests you get. Not to sound mean or anything, but I know people request things, but it seems like they don't ever get done.
Now I know this excerpt sounds kinda snarky, but it wasn't a snarky email at all. It was a very nice email. Anyway, I thought I should explain what happens to requests and why I promise nothing…
Requests get added to the List and what, you might ask, is the List? The "List" is a large piece of legal sized yellow paper that I have stuck in my Red Binder.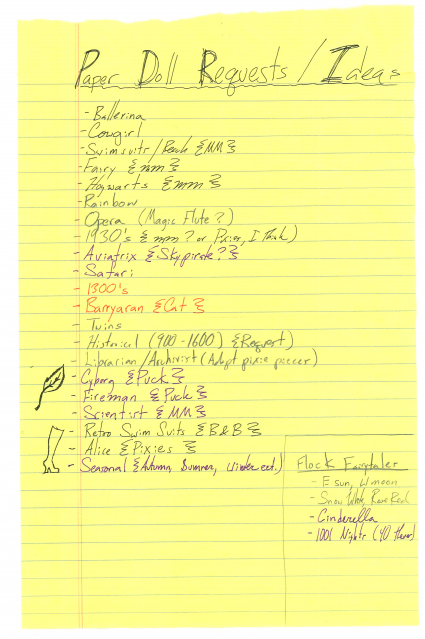 So, what happens to things on the List?
Well, not a whole lot. I pull it out when I feel like I need an idea or I want to draw something, but I'm just not sure what. I use the List when I'm low on ideas. I use it to both keep ideas that readers have given me, but also ideas I've had myself that I want to remember. I used to keep a list in the beginning of each of my sketchbooks, but I found that I tended to forget about those ideas once I filled but the sketchbook. Ideally, the List should be the master-list of all the ideas I had or have had suggested, in truth it is closer to a list of things I think I should do someday.
Some of the ideas have been done, like a fairy Marisole Monday and Friends paper doll, while some haven't and probably won't ever be. At times I forget it exists for weeks, or I stare at it when I'm having a hard time doing art and decide I hate every single one of the ideas.
Every few weeks, or months or whenever I think the paper is too old or too crowded, I transfer everything I haven't done on the old list onto the new list. Somehow ideas I have no intention of ever doing manage to migrate to the new list despite myself (Ballerina, Hogwarts), but the list continues.
Ever onward.
As for how long it takes, all I can say is it always takes me a long time to finish things. I posted this steampunk pixie in my sketchbook in October of 2012 and she was posted in January of 2013. Three to four months is a pretty normal turn around time for me.
As for requests, keep them coming. I love to hear from my readers and I love to get ideas from my readers. I just can't promise anything. 🙂