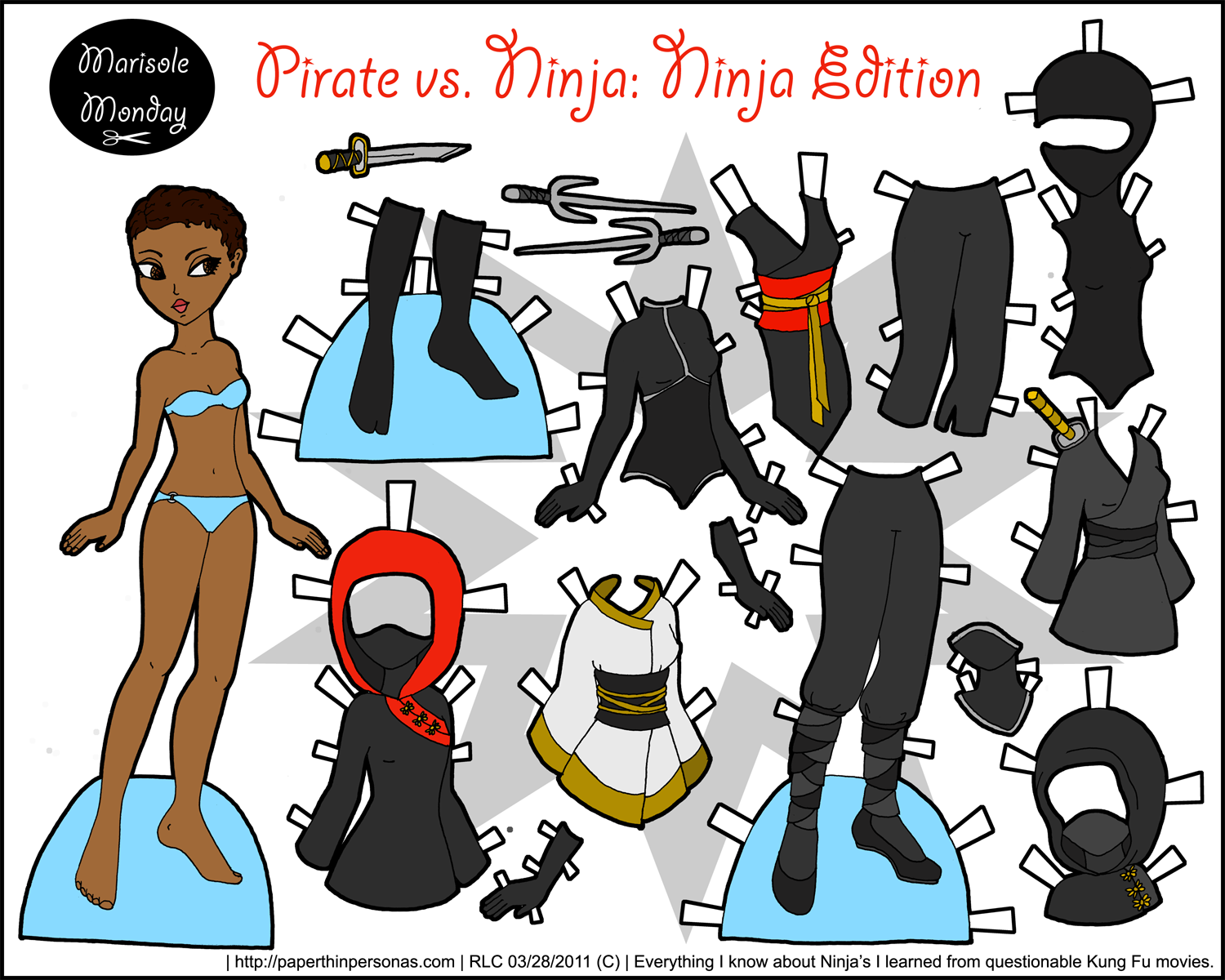 {Click Here for a PDF to Print} {Click Here for a PNG to Print} {Click Here for the rest of this series}
So, this paper doll began when I was asking for paper doll ideas and my friend said, "Pirates vs. Ninjas."
He was joking. I wasn't.
I actually gave some thought to the matter and decided I could do both a ninja and a pirate version of the paper doll. Today is the ninja and then next week, there will be a pirate paper doll for Marisole. I did a pirate paper doll a while ago, but I was never really pleased with how it turned out. So, I decided I should have another go at it.
In paper dolls, unlike in life, there are plenty of second chances.
On a totally unrelated note, I was looking at my poll results and I noticed that Marisole won as the favorite paper doll by a landslide. While I always thought she would win, I didn't think she'd win by as much as she did. So I am curious, why Marisole won. To help answer this question, I have developed a contest.
The Contest
The question is: Which paper doll series on the blog is your favorite and what makes it your favorite? A one word answer will not count, the "why" is very important to me.
The Rules:
1) One answer per person.
2) Contest will run for this week.
3) At the end of the week, I will put the names of everyone who answered into a hat, draw one randomly, and announce the winner on next Monday with the Marisole post.
The Prize: A custom paper doll for a series of your choice- Curves, Marisole, Pixie & Puck or Flora (though Flora has to stay in the Regency Era).
All right, I look forward to reading people's answers.