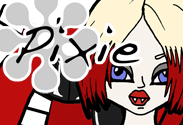 Happy Halloween!
So, confession time: I'm totally excited at the prospect of getting to sit at home tonight and possibly give candy to trick or treaters. I don't know if there will be any, but I'm hopeful there might be. I have a small bag of candy at the ready. I know I won't get very many, but I do love tricker treaters.
Little kids are so cute dressed up in costume and I have fond memories of my own tricker treating days.
To go along with the holiday spirit, we have a possitively fablous, if somewhat skanky, vampiress paper doll. She's got her black dress, her miniskirt and her corsets. All very 1980s gothic.