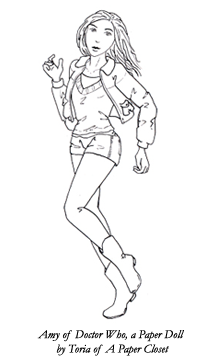 This February, I'm presenting my first Featured Paper Doll Artist: Toria of A Paper Closet. Toria is a talented paper doll artist and full time veterinarian tech. Her paper dolls are often dynamically posed with expressive simple faces and beautifully rendered movement in their dresses. There are many reasons why I admire about Toria's work, but perhaps the biggest is that her paper dolls have a soulfulness, combined with sense of dynamic movement that I find very appealing. I love the unique poses she chooses and the quality of her delicate line-work.
I interviewed Toria over Email last month and she was kind enough to provide a unique free black and white paper doll to download and print. It includes… a man and he looks really good. I am so jealous of other artist's man drawing skills.
---
An Interview with Toria of A Paper Closet
How did you get started drawing paper dolls? What is it about the paper doll medium that you find inspiring?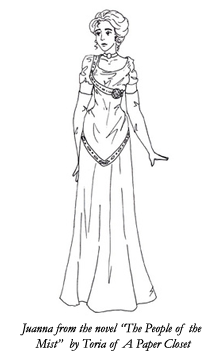 I was seven years old when I bought my first book of paper dolls (Tom Tierney's Confederate Family). My sister and I spent countless hours playing with them and the other sets we soon added to our collection. Coming from an artistic family it seemed natural to begin tracing new gowns for the dolls. I think one of my favorite facets of paper dolls is that the sky is truly the limit: any dress you imagine can be made real, all with a few strokes of your pencil. And on the practical side, what other type of doll can be stored with her 200-plus outfits in a shoebox?
Do you have any "rules" for designing paper dolls? What do you believe are characteristics of an excellent paper doll or a really poor one?
Rules, hmmm. I think creativity and imagination are the main elements. Artistic talent doesn't count for too much if there's no inspiration. Having said that, I do think consistency of style & historical accuracy (when applicable) are very important. I love to see other artists who have a certain style that sets them apart from all the rest.
A lot of your paper dolls are fantasy based on worlds you've created. What draws you to the fantasy genre? How do you feel clothing reflects these wonderful worlds you've created?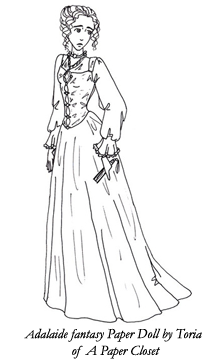 The fantasy genre is where I can design dresses & outfits with no boundaries. I get to create a whole culture of costume with no worries that it is not historically and ethnically accurate. As for creating worlds, I try to imagine a culture with history that explains the styles and fabrics based on natural resources available in that era/geographical region. I am fascinated by the differences in clothing around the globe and throughout time. I love looking through books of costume history and seeing how clothing has changed. I try to reflect this in a smaller scale with my paper dolls.
Since your work is mostly black and white, I have to ask, what draws you to that choice? Is color something you can imagine working with or not?
Honestly, I'm terrified of color and always have been. I dabble in color every now and then, just to see if I can find a medium I like, but I always return to the comfort of my black and white.
Can you describe the process you use for drawing paper dolls? How does one start and how does one end? When do you decide a paper doll set is complete?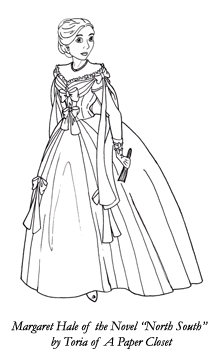 Every paper doll is a little different. Some begin with plenty of planning and research while others are the fruit of a moment's inspiration. Most begin with a story (either created by me or on I've read). The first major step is deciding what outfits are needed. This is easiest when I have a story because I can design the costumes based on the doll's experiences, social status & nationality. After the planning comes research, if needed. Pinterest has become invaluable here. Then sketching, drawing, inking & scanning. I like a complete set to be at least four pages worth of doll, dresses & accessories.
Each set is different, though. Usually the story dictates how many outfits are needed & the type of accessories required. Some dolls I like so much I continue to draw dresses for them, others I lose interest after drawing the "required" dresses.
I've noticed a lot of your work is inspired by books. How do you choose a book to illustrate with paper dolls? What draws you to specific authors or works? What does the process of turning a book character into a paper doll look like?
Reading has always been a major part of my life. Turning a favorite character into a paper doll seems like a natural melding of two passions. Not every book inspires a doll, usually the author has to describe the clothing at least in passing so I can build off of their image of the character. Most of the time it is not a conscious choice on my part which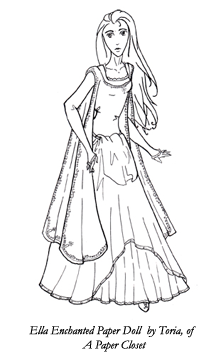 character to turn into a doll. I finish a book and my mind is so filled with images of dresses and outfits and what pose to put the doll in– the characters practically beg to be drawn!
The process requires re-reading the book and bookmarking every mention of clothing. I then do research if it is a historical novel. If it is fantasy then I get to devise a fashion for that world based on cues from the story. To me the pose of the doll is very important. I try to embody the main characteristics of the heroine and give a sense of who they are simply by the position of legs, arms, hands, head, eyes, shoulders– body language tells so much. I try to take advantage of it.
Is there anything else you'd like to share?
The only way to get better is to practice!
Thanks Toria! Be sure to check out her site, Paper Closet to see more of Toria's beautiful paper dolls.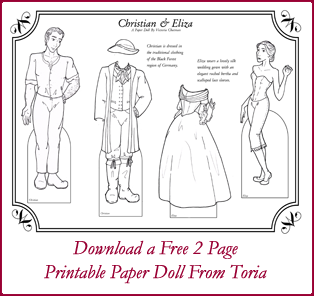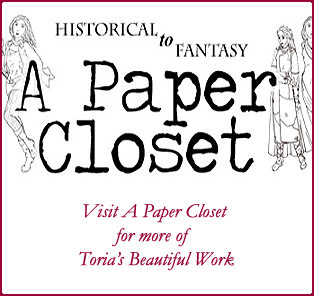 ---
---