Today, I am please to present a tutorial on how I prep my scanned line work for paper doll sets. I was asked some questions about this by Bethany, who shows off her paper dolls on her Pinterest board.
In this tutorial, I will show you how I clean up linework from a rough scan to an image with only black & white. I don't know if this is a perfect set of instructions, but I have done my best to encapsulate the process I use.
Before you begin, you will need your scanned linework. I scan at 600 DPI, but other people scan at other things and that's okay. Load your scan into your version of Photoshop. I use CS5 and CS3, because I am quirky.
Ready? Okay… let's do this.
Step 1: This is Your Scan.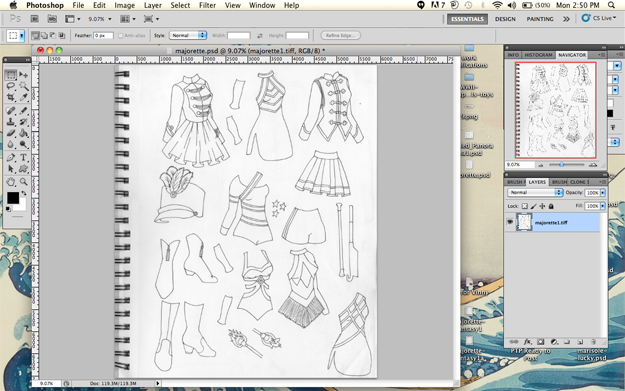 In the image above you can see my 600 DPI Tiff that I have opened in Photoshop. My scanning bed is just a little too small to fit my 9 by 12 sketchbooks, so normally I scan in two parts and then join those parts using Photoshop's automated picture combine features. In the end, this is what the scan looks like right before I am ready to start cleaning it up. As you can see, this is for a majorette set for Marisole Monday & Friends.
Now… let's get ready to mess with it.