---
{View Larger} {View the PDF} {View Black & White} {View the Black & White PDF}
{More Sprites Paper Dolls}
---
Today's Printable Paper Doll Inspirations: 18th Century Merchant Class Clothing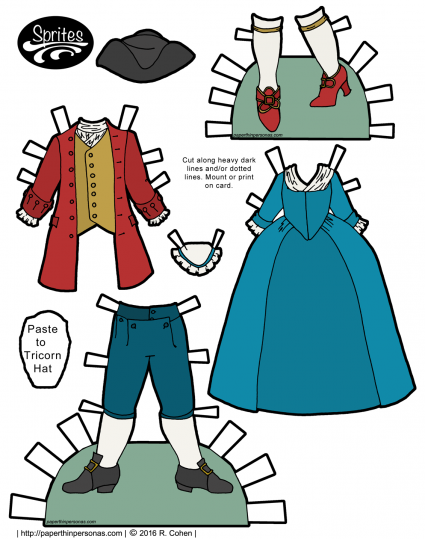 This 18th century clothing for the Sprites paper dolls are meant to represent the Merchant Class. On the left, for the men, we have a jacket and vest worn over a shirt. His breeches, stockings and shoes are all mid-18th century. On the right, for the lady, we have a round-gown, defined by the lack of a stomacher. A handkerchief fills her low neckline and she has a matching cap, stockings and shoes.
In the United States in the 18th century, there were four social classes. You could be wealthy, merchant class, lower class or in some for of bondage, such as enslaved or indentured. In England, these classes were defined by birth. So, it was entirely possible to be a Merchant and make more money than a Lord, but you were still in the middle class. Unless you could marry off your son or daughter into a higher social status and then… Well, we have the plot of one of a million 18th century romances.
I should add that the merchant class didn't just include merchants. Anyone involved in a trade like lawyers, doctors and clergy were considered middle-class. It wasn't until the late 18th century that Barbers were separate from Doctors.
If you're interested in learning more about 18th century clothing, you can check out my 18th Century Pixies series. I talk a lot in there about the ladies clothing of the era.
Alternatively, one of my favorite 18th century costume history books is What Clothes Reveal. I used it a lot for these, because it shows what "middle-class" people wore, rather than just what those with lots of cash wore. Colonial Williamsburg also has a decent overview of 18th century clothing. If you're not sure where to start, start there.
Love the blog? Then donate through Patreon. Every little bit helps.
Looking for some Sprite paper dolls to wear these outfits? Pick out Sprite paper dolls here.