---
{View Larger} {View the PDF} {More Mini-Maiden Paper Dolls}
---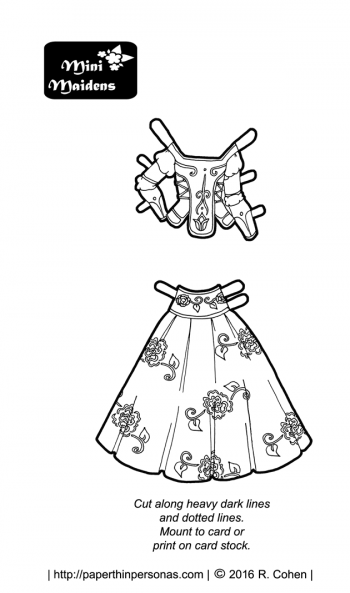 On Monday, I posted Faye and the first of her folk art inspired outfits. Continuing our folk costumes inspired theme for paper dolls this week, today we have a fantasy paper doll outfit featuring a blouse and skirt. The blouse is decorated with a tulip inspired pattern and abstracted tulip decorations on the sleeves.
The skirt has a stencil inspired rose motif. Every paper doll needs a skirt covered in roses.
Both of these designs remind me a little of rosemaling. Rosemaling is a Norwegian technique of painted curves, spirals and floral designs. Back home in Alaska, there is a town called Petersburg which is very proud of it's Scandinavian heritage. I remember some of the buildings having rosemaling on them.
So, I'm trying out Instagram, but I'm not that good at it. Still, follow me if you want. And there's always Patreon if you want to help support PTP.
The blog is also on twitter @paperpersonas. I am sometimes reminded that my Blog is better at Social Media than I am.
Oh, well.
So, what do you think of today's outfit? Would you wear it? I think it's lovely, but I probably can't pull off the skirt or the blouse.
Need a Mini-Maiden paper doll to wear today's outfit? Pick a Mini-Maiden Paper Doll Here.