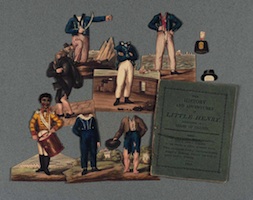 Two of the earliest commercially published paper dolls are Little Henry and Little Fanny both from 1810 printed by the publisher S&J Fuller. S&J Fuller was a very well regarded press that produced lots of illustrated materials including fashion plates and other children's books, located in London.
Paper dolls of this style featured a separate head which was then tucked into each dressed body. The illustrations, or paper dolls, would have been engraved, probably copper plate, and then colored by hand with water colors.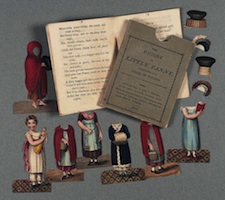 Personally, I find separate head paper dolls a little creepy and odd, but they were pretty common, though I haven't seen any made commercially lately. I think the separate head allowed the publisher to save on paper which was quite expensive in the early 19th century.
Each paper doll was published with a book to teach a moral lesson. Children's books were usually aimed at instruction, so we get to read about Littler Henry and Little Fanny going from idleness to diligence. At one point, Little Fanny is shown bare footed and begging for bread. Charming story for children, I'm sure…
I don't know how long S&J Fuller published these books and I haven't been able to find a lot of information on the press. Does anyone know of a good book about early children's book publishers that might cover them?
Note: These images come from the Theriault Auction House and I believe my usage falls within the guidelines of fair use in the United States; however, I will happily remove them upon request.