---
{View Larger} {View the PDF} {More Mini-Maiden Paper Dolls}
---
Today's Printable Paper Doll Inspirations: This Dress From the 1770s, This Dress from 1775-1780 and This dress from the 1770s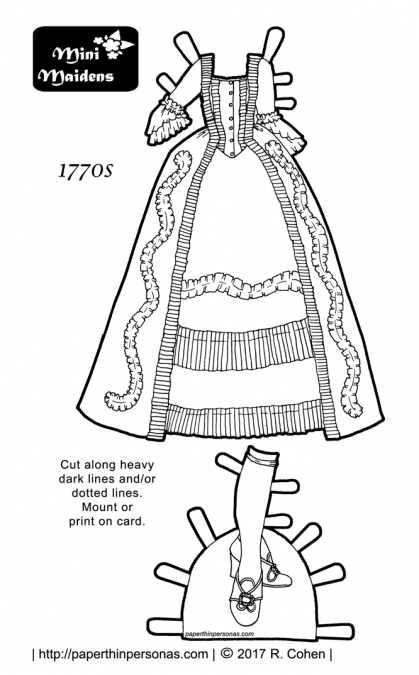 Today's Mini-Maiden paper doll dress should have maybe been posted on the 4th of July since that is Independence Day, but I decided to hold off on it. I'm not sure why exactly, but I did. So now, I am posting it on the 19th of July for really no reason, except that I really love 18th century clothing.
Often when I created historical pieces, there is a specific piece I am recreating. I choose a dress that I love and then I draw it. That was the case with my 1820s morning dress for example, but today's 1770s gown is much more an expression of several gowns from the era. This dress, this one and one more all from the 1770s are some of the source images that I combined. Check out my 18th century pinterest board for way way more examples of clothing from this era.
Because I did not use just one dress, there is a a lot of room for error. It is highly possible that someone from the 18th century would look at this dress and think it was way off for reasons I can never know.
Clothing is full of tiny nuanced rules. Most of these are never written down and are now lost to us on the whims of time. Mostly, I've come to accept this as part of the creative process. I'm never going to be perfect.
Perfect, I am fond of saying, is the enemy of good.
I can however been well researched. In the interest of that, I wanted to mention that Dover has just reprinted the book, Eighteenth-Century French Fashion Plates in Full Color edited by Stella Blum. This is a great book that I have been wanting for a while. So, I just ordered my copy and while I get no benefit from the link above, I wanted to mention it in case anyone else has been wanting this book.
Should I do more 18th century stuff? I have been thinking about maybe a riding habit. Thoughts?
Need a Mini-Maiden paper doll to wear today's outfit? Pick a Mini-Maiden Paper Doll Here.