---
{View Larger} {View the PDF} {View Black & White} {View the Black & White PDF}
{More Ms. Mannequin Paper Dolls}
---
Today's Printable Paper Doll Inspirations: The dresses of 1974 like Simplicity 6605 and McCall's 3936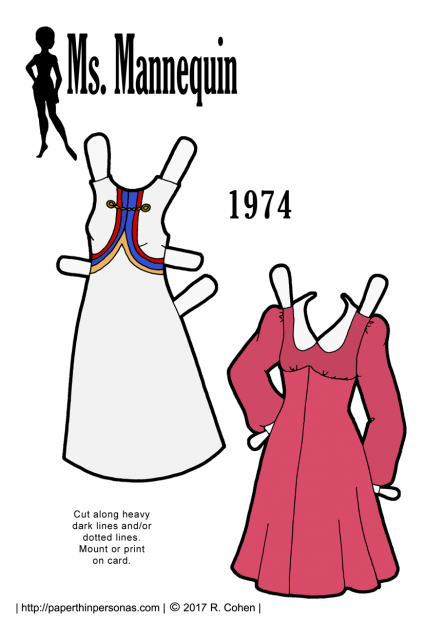 Let me be frank, I don't really love the fashions of the 1970s, but they are starting to grow on me a little. There's something about the bold colors and the big collars that I kinda have a fondness for.
So, I might never been a die hard "1970s YAY" kinda girl, I am at least learning to enjoy some of the looks of the era.
Last year I drew my first 1970s stuff and this year I wanted to continue dabbling in the era. While I think the Ms. Mannequin dolls look kinda odd as Vikings (their pose just doesn't work), they make much better swinging cats of the 1970s.
Both of these dresses are based on pattern cover designs. I love using vintage pattern covers to design paper doll dresses. They are usually pretty easy to draw from too, which I am grateful for.
The dress on the left is from Simplicity 6605 and McCall's 3936 and McCall's 3936 which was apparently a "carefree pattern" which I think meant it was supposed to be easy to make. The dress on the right is from Simplicity 6605 which was a "how to sew" pattern. It would teach you, apparently, how to make set in gathered sleeves.
These days, I use online videos when I don't know how to sew something, but I suppose that wasn't exactly an option in 1974.
Also, I don't sew people clothing. I am strictly a doll clothing sewing kinda girl.
Well, what do you all think of today's 1970s dresses? Is this a decade of fashion you really love? Do the Ms. Mannequin dolls need maybe a jumpsuit or something to do with their dresses?
Let me know in a comment.
What to help support the blog? Then join Patreon.
Need a paper doll to wear today's outfit? Pick out a Ms. Mannequin Paper Doll Here