---
{View Larger} {View the PDF} {View Black & White} {View the Black & White PDF}
{More Marisole Monday & Friends Paper Dolls}
---
Today's Printable Paper Doll Inspirations: This Fashion Plate from 1880 and Things the Scare Me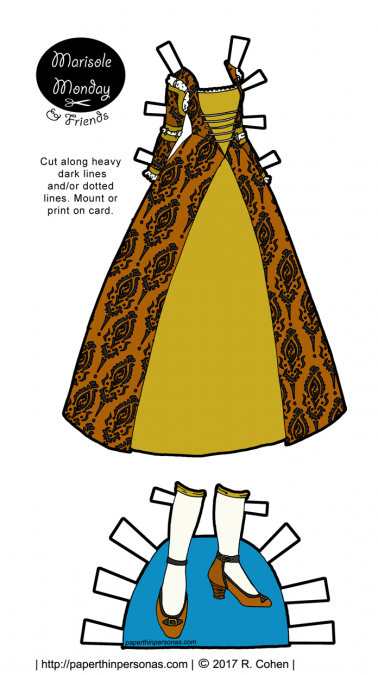 Yesterday I posted fantasy garments based on some traditional Asian attire. Today I am hopping back to Europe to post a riff on 15th and 16th century dress.
Today's Marisole Monday & Friend's paper doll dress crosses Italian clothing in the late 1400s with English costume in the mid-1500s. There's a definite Spanish Farthingale thing going on in that skirt shape. Spanish Farthngales were hoop skirts of their era and gave dresses a distinct cone shape. It was all the rage in England towards the end of the 1500s. Here's an example of what I talking about.
The sleeves of today's paper doll gown are pretty Italian. The style in Italy at the very end of the 1400s and the beginning of the 1500s. It was considered fashionable to have the shift sticking out through the spaces the sleeves- my paper dolls are nothing if not fashionable. Here is an example of the sleeves I mean and here is another one.
When it came time to color today's paper doll, I fell back on the colors I tend to like when it comes to Tudor feeling things. I settled on copper and black for the color scheme. While I experimented with brighter options, I loved the sophistication these colors created.
As with many of my fantasy paper dolls, I added shoes and stockings to round out the outfit. After all, I do love to draw shoes. These shoes are neither English nor Italian, but more a pair of modern ones. So, that continues the cross-cultural experience here.
So, what do people think of my English-Italian Renaissance love child of a paper doll dress? Leave me a comment and let me know.
Meanwhile, if you want to support the blog, then think about donating through Patreon.
Need a Marisole Monday & Friends Lady Paper Doll to wear today's outfit? Pick One Out Here.