---
{View Larger} {View the PDF} {More Mini-Maiden Paper Dolls}
---
Today's Printable Paper Doll Inspirations: Simplicity 1781 from 1935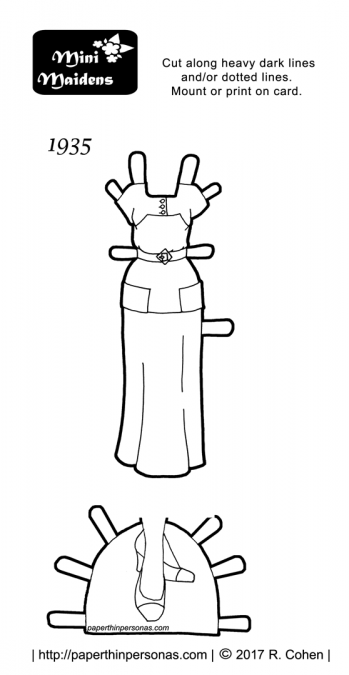 So, this is my first 1930s dress for the Mini-Maidens paper dolls. That surprised me, but it is true. I even went through the archives to confirm- I've done 1920s and 1940s, but never a 1930s dress.
The dress is based on this pattern cover from Simplicity 1781 designed in 1935. The two part dress had an optional coat which I did not end up drawing. Mostly, what I liked about the dress's design was the super cool square belt buckle.
Yes, sometimes I'm that easy to please.
I should add that I also really liked the pockets on the button of the top and the very art deco feeling of the whole piece, but mostly… mostly I liked the belt buckle.
One problem of doing my first mini-maidens' 1930s dress is that I don't have a really good Mini-Maiden doll with the right hair for the era. This Hazel has 1940s hair which doesn't quite work. The closest two choices are probably my 1920s Faye paper doll whose wavy bob is not too far off or my steampunk Greta paper doll.
Clearly, this is evidence that I need to draw more than one 1930s dress for the Mini-maidens printable paper dolls.
Love the blog? Donate through Patreon there's more blog content, behind the scenes stuff and you get to know you're helping keep it on the internets.
The Reader2017 coupon for 25% off in the Etsy store is good for just two more days. So, if there's something you want, I'd grab it.
Now, I am curious. Should I do more 1930s stuff for the Mini-Maidens? Is there another decade you'd like to see? Let me know in a comment.
Need a Mini-Maiden paper doll to wear today's outfit? Pick a Mini-Maiden Paper Doll Here.