---
{View Larger} {View the PDF} {View Black & White} {View the Black & White PDF}
{More Bodacious and Buxom Paper Dolls}
---
Today's Printable Paper Doll Inspirations: Cute Work Out Clothing and Sweating a Lot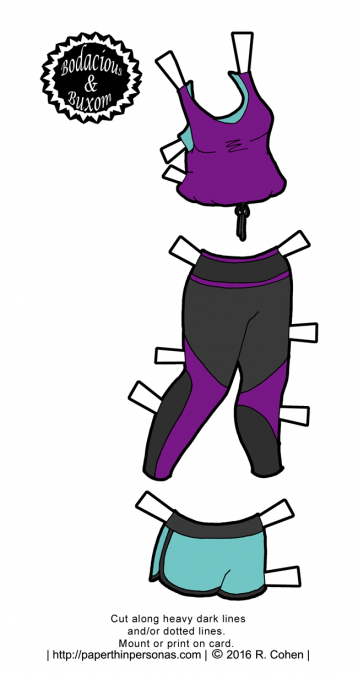 I am spending most of January 2017 posting things I drew in 2016 to clear out my image archives and I came across this set of cute paper doll workout clothing that I drew. I really am not a fan of exercise, but I know I need to do it. I tend to approach it the same way I approach a lot of things, "You can do anything for 25 minutes, even if you hate it."
And while I don't like the actual exercising part, it does wonders for my mood and I always feel better the next day, even if I am stiff. When I first started working out, I just wore some old sweats and a t-shirt. Eventually, I bought some real workout clothing and I discovered that it was much easier to work out when you have real workout clothing on.
Since I, like the B&B paper dolls, am pretty buxom, it is hard to find cute sports bras in colors that still give me the support I need. However, the fun thing about paper dolls is that you can create things for them that you can't find for yourself. Therefore, I gave my B&B girls a fun teal sports bra under a tank, leggings and shorts to wear while she hits the gym.
My workout clothing does not coordinate nearly as well as this, but as I have said before- fantasy fulfillment is a big part of paper doll drawing.
Want to support the blog? Then donate and become a Patron, follow the blog on Twitter, leave a comment, and/or tell a friend about it.
Need to get a Bodacious & Buxom paper doll to wear these fabulous clothes? Pick one out here.