Over the years, I've seen my paper dolls transformed into a lot of things, but rarely have I been so pleased as I was when I was emailed by Stephanie Tremel. A skilled seamtress, Stephanie has, with guidance from her daughter Kayley, transformed my Fairytale Maiden paper doll set and my Yellow Princess paper doll set into some beautiful doll clothes for 11 inch fashion dolls, like Barbie.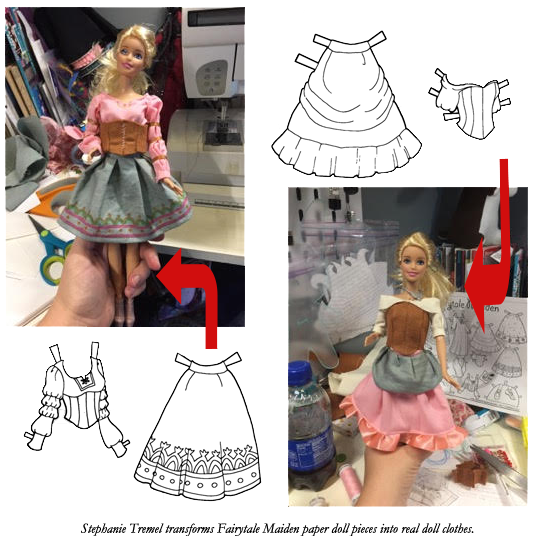 As a child, I love playing with dolls and I still do love dolls- real dolls as well as my paper dolls. I remember my own mother and grandmother sewing dresses for my American Girl dolls and my Ginny dolls. While I am not by nature a keeper of momentos, I can not imagine ever getting rid of the handmade doll clothes I have from the women in my family. It is exciting for me to think that my designs could inspire a mother to sew such wonderful garments for her daughter's dolls.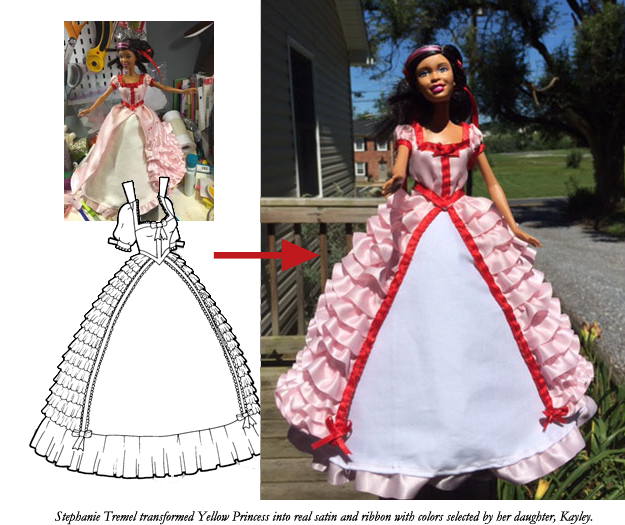 Of all the things I have ever drawn, I couldn't imagine trying to turn the Yellow Princess' ruffled confection of a dress into a real piece of doll clothing. This pink and red version, colors selected by Stephanie's daughter Kayley, is a beautiful interpretation of the dress.
Thank you Stephanie and Kayley Tremel for sharing your creativity with me and letting me share it with my readers.
By the way, if you want to color your own versions of Yellow Princess and Fairytale Maiden are both avaialbe in black and white or you can get my versions with Yellow Princess in mostly yellows and Fairytale Maiden in reds, blues and greens.