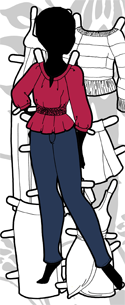 One of the quirky things about working so far in advance is that sometimes I stumble across files I sort of forgot about. And today's post is one of those files. Opps.
This set was completed last year and I actually thought I'd posted it, but when I was looking through my files, I realized I never had. After a few moment of, "Well, now I feel rather foolish…" I decided to put it up. After all, there's no reason not to post it even if it's a little old.
When I had started this series I had decided to stick to a pretty small selection of colors designed to provide the most mix and match options for outfits, but in hind sight, I seem to recall getting pretty sick of the color options before the set was completed.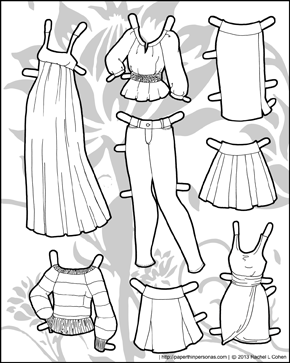 {Click Here for a PDF in Color} {Click Here for a 150 dpi PNG in Color}{Click Here for a PDF of Black and White} {Click Here for a 150 dpi PNG in Black and White}{Get some Paper Dolls to Wear these Clothes} {Get More Clothes for These Paper Dolls}