I do have a plan for a St. Patrick's Day paper doll, but it's not a leprechaun. As many of you know, it can take me a long time to go from paper doll idea to actual paper doll (sometimes as long as a year), so I usually try to plan holiday paper dolls several months in advance.
However, I had some requests for a Margot leprechaun and one of my readers, named Melinda, decided to take things into her own hands and create one.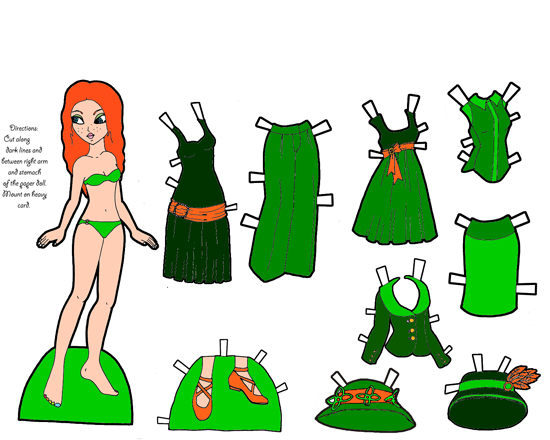 I'd like everyone to meet the leprechaun by Melinda. Melinda is a sophmore at Seattle University and she decided we needed a leprechaun paper doll, so she took outfits from several different sets and created one of her own. I've added the leprechaun, along with another paper doll set colored by Melinda to
the Showcase
.
How cool is that?
So, I have a challenge for everyone else. Can anyone name all the sets these pieces come from? I'm embarrassed to admit that I got a few of them right off and then I had to search for one of them to make sure I was right.