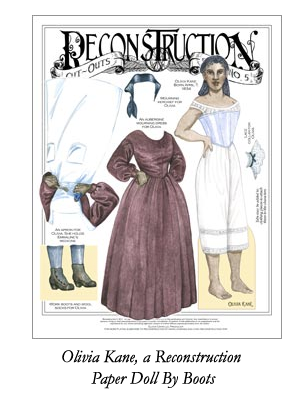 I interviewed Boots of Comic Book Chronicles and 19th Century Paper Dolls for my Featured Artist of March 2014.
Many years ago when I started this blog, I started in part because of two wonderful paper doll blogs that existed at the time. One was Liana's Paper Doll Blog and the other was Boot's 19th Century Paper Dolls. Since then, I am pleased to have come to think of Boots as not just a paper doll artist whose work I deeply admire, but also a friend.
Boots' paper dolls are wonderful, wether historically accurate or comic book inspired. Her work has a realism that I deeply admire and she uses pen and ink, markers and paints with equal skill to create vibrant and beautiful paper doll sets. Along with her serious work, there is a delifhtful playfulness to Boots paper dolls. Judy, her seriocomic paper doll or Batman and Robin from the Bronze Age of comic books. I see in Boot's wonderfully rendered figures a depth of character. I never doubt that each of her paper dolls has a history or comes from a place where if I asked about each costume, there would be a story behind it.
Check out my Featured Artist Page for a free printable paper doll by Boots and a fascinating interview.