Marisole Monday: Pattern & Grace- Full Color
November 26, 2012 in Full Color, Marisole, Marisole Monday & Friends, Printable Paper Dolls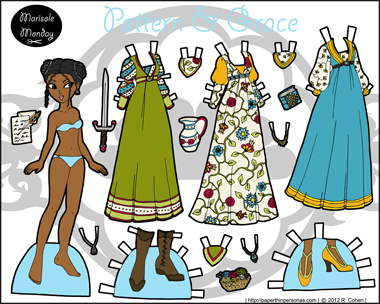 {Click Here for a PDF to Print} {Click Here for a PNG to Print} {Click Here for the rest of this series}
I'm a little ashamed of how long it took me to get this paper doll up and I have absolutely no excuse since the paper doll was colored weeks ago, but with family visits and a nasty cold, it took longer than it should have to be done. If you've forgotten, the black and white version contained a rant about how complicated the floral pattern was. I'd like to say it was easier to color than it was to draw, but that would be a lie.
Coloring that floral pattern was a pain in the neck.
Still, I'm quite pleased with how it came in and, while I am in a bit of a cold medication induced haze, I think the whole paper doll is fairly charming. I sort of regret not making her blond so that her hair net things would be more obvious, but that's my only complaint.
By the way, lately Marisole's face has been reminding me a little to much of an insect. If I redrew her head, would people be horridly upset? I'd make sure her clothing still fit. Let me know in comments.