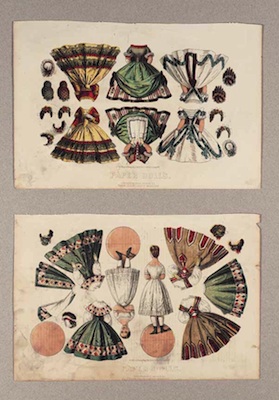 One of the questions I've been asked in my question drawing (you can still enter, by the way), was about the early history of paper dolls and what I thought of it. I love historical paper dolls. As I begin to build my collection, I am drawn to older dolls (pre-1900) and newer dolls (right now) far more than I am to the 1930s-1950s, probably because I was never into movie star paper dolls at all and those are sort of the golden years for that.
Lately, I've sorta been obsessing over two-sided paper dolls such as this paper doll whose beautifully chromolithograped and was published around 1866. I love the hairstyles and the matching cape. Originally, it was published in Frank Leslie's Lady's Magazine was a monthly publication featuring needle work, literature, fashion and news.
The magazine was one of the many publications of Frank Leslie. A major publisher, Leslie is best known for Frank Leslie's Weekly, officially titled Frank Leslie's Illustrated Newspaper, an illustrated literary and news magazine founded in 1852 and published until 1922. Frank Leslie"> Leslie died in 1880 and his wife, Miriam Leslie took over the publishing house which was in debt.
She had her name legally changed to Frank Leslie and proceeded to run the business successfully out of debt. A campaigner for the rights of women, specifically suffrage, Miriam Leslie gave up publishing in 1902. When she died, she gave management of her fortune to Carrie Chapman Catt for use in the fight for woman's rights, though the will was contested by her relatives. Miriam Leslie should be remembered as one of the great women of the late 19th century.
Sold at a Theriault's auction in 2006, the paper doll set sold for 200 dollars which was less than I would have guessed. She's aged well the last 140 years.