Click on the images to download the PDF file for printing the magnetic paper dolls.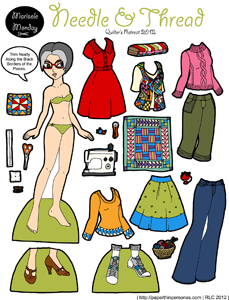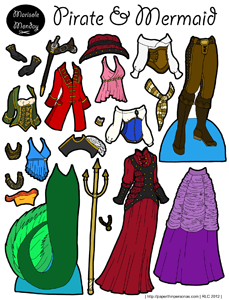 First off: I was not abducted by aliens or eaten by a polar bear or killed by some strange monster which lives in the depths of the library stacks.
Rather, I was busy working on class things, working on work things and working on thesis writing things. The truth is that for the next semester, the blog is going to be neglected and I am going to feel guilty about it, but I am really really crazy busy.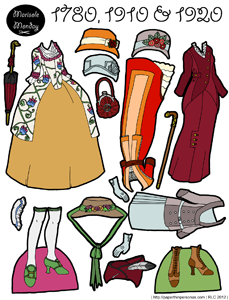 My mother attends a quilting retreat each January with some friends and there is a tradition of bringing a little gift for the other quilters. Since I gave her a set of magnetic Marisole paper dolls this year for the holidays, she decided she wanted a set for her quilting friends. Everything about these paper dolls was produced with her consultation.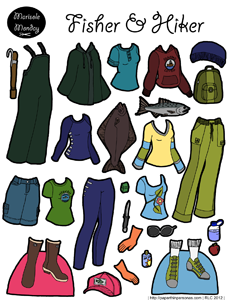 The magnetic paper doll (who can can clothing with magnetic Marisole) has gray hair, red glasses. She comes with her sewing machine, a rather lopsided quilt and several different important quilting accessories (scissors and things).
After she approved the paper doll design, we went through all of the Marisole paper dolls I have drawn and selected a collection of clothing to go with the doll. Each attending person got one main doll and then one page of extra clothing.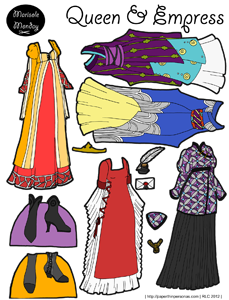 It was fairly entertaining to sit down with Mom and have her select what she liked. Sometimes, I guessed right on what she would pick, but often I was surprised. My mom and I have similar taste in clothing and jewelry and fabric, so I suspected we'd have similar taste in paper dolls.
I knew she'd like the pirates and the commercial fishing paper doll. I was fairly certain she would go for something fantasy and I thought the art deco stuff was a shoe in. I knew Tones and Shades would be important since she shares my love of beautiful textiles that are used in Kimono. I was a little surprised by the fantasy set she liked, since it's one I'm not totally pleased with.
I have come up with some quick fixes which I think should at least feed the blog while I'm so very busy. There will be some sketchbook posts, probably some black and white posts (mostly of things which have already appeared once in color since that is the easiest sort for me to do) and possibly something else as I figure out what I can find time for. I don't want to give up PTP, but I do have a thesis to write.
One last note on these magnetic paper dolls, they are sized as an 8 by 10.5 inch image, rather then my usual 8 by 10 inch, since I knew which printer I would be printing them on. Double check the PDF settings before you print them to make sure they will fit. On some printers, they might print slightly smaller than the other magnetic Marisole paper dolls, which is why I'm not putting them in the same category. Enjoy them.