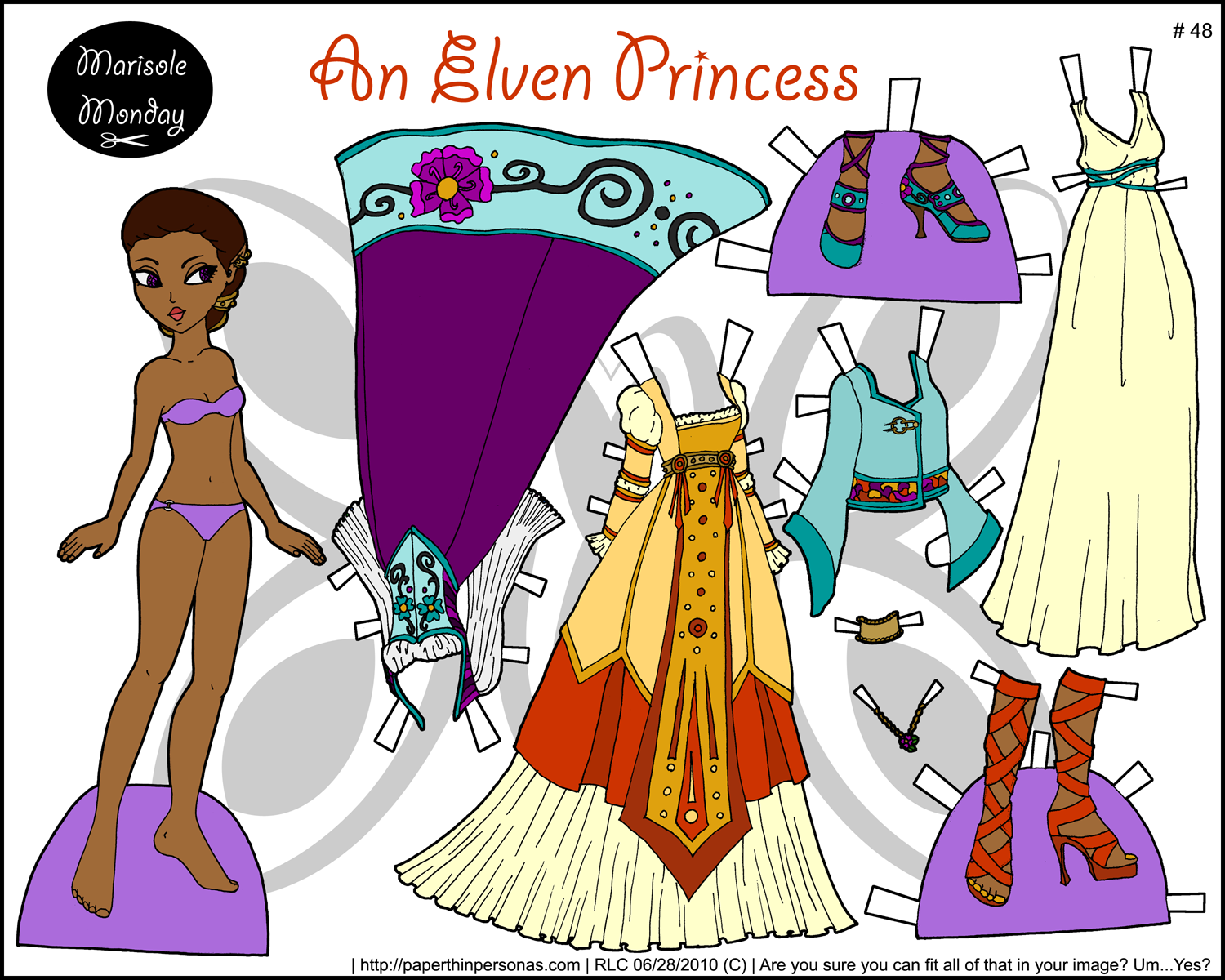 {Click Here for a PDF to Print} {Click Here for a PNG to Print} {Click Here for the rest of this series}
I must confess that I didn't think I would ever get these paper dolls done. The coloring of the clothing was hugely time consuming and I kept disliking how the schemes turned out. I'm still not totally pleased with the gold and red ballgown, but it's much better then the blue and green version. (Trust me on this one.)
The original goal was to draw things with trains (because I need practice) and this evolved into a set of clothing a fantasy princess (in this case Elven cause of the ears) would wear over the course of the day. Working left to right, the purple gown with the corset and white blouse is her day dress. The red and gold dress with the cream under dress is her formal dinner gown or ball gown which she wears in the evening. Her short bed jacket is next held closed with a golden pin and that she wears over her long nightgown which is on the far right along with two pairs of shoes. The purple shoe to match her purple day dress and the red shoes to go with her formal ball-gown. She also has two necklaces, one to go with each gown though the gold one can be worn with either dress.
Considering the time it took to get all these paper doll clothes to fit on one image, I am glad I don't draw dresses with trains so often. I do think I need to start thinking about color schemes when I'm designing rather then at ten pm on Sunday night when I realize "Huh… this paper doll dress has like five layers. Maybe I should've thought this out better…"
Planning never was my strong suit, but I like to think that I make up for it with a can-do attitude and a certain amount of gumption.
Edit 8/10/2013: There is now a a black and white version of this paper doll for coloring.